Wings of the productivity
Wings of the productivity
---
South west of Albania. Sun, sandy beaches and palms. This is the place near ancient town of Appolonia, historical site along with many other attractions from classical period of the old nations. On the other side of the peace of mind and relaxing surroundings, turning to the opposite side one will be facing astonishing view of the mountains rising out of the east. Somewhere out in the landscape is situated city of Fier, bustling community waiting its turn to go forward towards exiting and new better times. Once center of the oil and refinery industry now it is taking full advantage of its position connecting north and south of the country. This is the point where industry along with truism starting to strive end finally commence its long waiting and deserved growth.
Somewhere in the neighborhood anyone passing by the site would notice dust, noise and fleet of predominantly Caterpillar machinery working hard and relentlessly. Here is the company Elmazaj, team of young, enthusiastic people ready to take the challenge and move forward with new solutions. They are holding positions conquering road mile after mile but fast and without hesitation. They are fully aware that working on this important project is also a chance to implement new trends and technologies into companies' bones and blood. They are absolutely aware that this is the only way, working it out in the real life situation, growing into the major player on the market, able to tackle every future project without compromise. They know that many projects of the kind are around corner and keep waiting but only for the ones capable of doing this in most productive and efficient way. No one is capable to work on its own, this is why team work is of the utmost importance and Teknoxgroup is here to provide that expected ''friendship''...Once we recognized the need for more serious approach to the project we have employed all our efforts and decided to get down to the fact. Solution is always about more production, better quality, more savings...this is where we feel on our own turf and where introduction of technology solutions can make a real boost from the standstill situation upwards.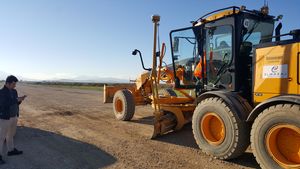 Finally here we are with our hands of the fantastic 120M motor grader, although long time ARO ready finally got married to the brand new 3D Dual Automatic GPS Accugrade System. For the expected millimeter accuracy here is also Trimble base station and full SPS system which is eventually providing stability, precision, independency and flexibility within all stages of the project. It is worth of mentioning that our team, on many road projects so far, along Teknoxgroup markets from Slovenia to Albania has proved the fact that overall productivity can be improved for staggering 5+ times!!! When it comes to speed, low fuel consumption, significant material savings, fewer machine travel, no staking and minimal surveying, digitalization and connectivity, quality of work and right on grade from the first time, accuracy there is certainly no alternative for more efficient work on the market nowdays.
Such equipped Elmazaj is definitely on the new level, paving the road for its firm advancement with full steam ahead. Now being distinctive from the rest of the herd and recognized by colored in CAT yellow we wish them a lucky strike on the future projects. And definitely to continue well and sound working without fear on this city of Fier bypass project...
---