ACCUGRADE PRESENTATION IN BELGRADE
ACCUGRADE PRESENTATION IN BELGRADE
---
Technology is making its way strongly pushing forward and often imposing other traditional ways of dealing with challenges to adapt to the set of new rules. It is becoming more like matter of survival in ever fast paced environment for the future to come. Construction industry finally gets its impetus after all stages other industry players has been already went through. Agricultural, Auto, Aeronautics, Shipbuilding are some of the development contributors adopting new technology solutions such launching all sorts of daily activities to another level. Here we are picking up and finally getting closer to the rest of the herd. Ahead of us is opportunity to lead in advancement to the still undiscovered horizons of efficiency, profitability and overall productivity in construction.
As leader in our industry Teknoxgroup is always in pursuit for conquering still ''uncharted'' areas in order to stay on top of the game. Goal of our promotional activities is to uplift awareness to the level when our customers can recognize means to couple with the technologies through Teknoxgroup as utmost provider of unique solutions.
This is exactly what we wanted to achieve last Friday on June 17th at the ''proving ground'' located within our Belgrade facility. Selected group of our construction customers had opportunity to see CAT machine control technology in full power. Dozer D6K XL equipped with Accugrade 3D Dual GPS system was pushing dirt on the simulated HWY construction project. It was one of those ''tricky'' designs consisting complex curves, vertical and horizontal cross sections often posing a challenge for companies wanted to make fast and productive progress. It was perfect situation to present performance and strength of Trimble GPS line of heavy construction Site Positioning Systems in align with Machine Control. Our team more than successfully introduced for the first time in our local market positioning and guidance solutions such demonstrating how to make a big steps ahead. More important is the fact that we presented tangible way of making the future profitable. By all of that we wanted to send a strong message – Teknoxgroup is here to serve and help to provide to its customers improvement for not only couple of more percentages but significantly, working several times quicker, more precise and with serious moneys left in the pocket.
Click on the picuture below to watch Cat Accugrade presentation in Belgrade.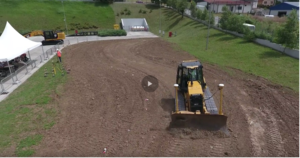 ---