PERFORMANCE CVA
This CVA offers the maintenance performed by Teknoxgroup and it's Cat certified technicians with the right parts, right on time and right service for your machine. Your CVA takes care of that so your operation can maximize its performance.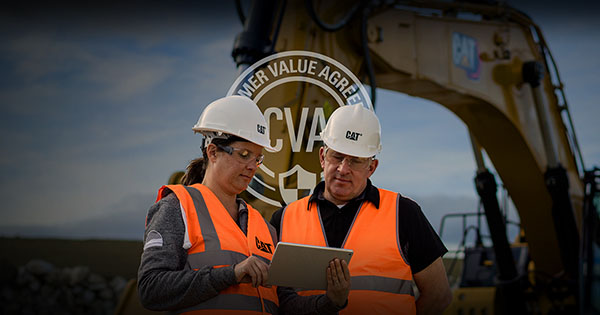 WHAT IS INCLUDED
GENUINE CAT PARTS WITH PROFESSIONAL SERVICE:
Planned maintenance kits aligned to PM events
Our trained service technicians have the experience, training, and tools to maintain your Cat equipment quickly and accurately, bringing you the confidence that you will have maximum machine availability
Maintenance service performed as per Operation and Maintenance Manual
CONNECTED MACHINE DATA AND INSIGHTS:
Better equipment management is one of the best ways to make your business more competitive and build your operation profitable

Actionable insights from Teknoxgroup customer portal
Machine data such as hours, location, fuel burn and maintenance alerts

Teknoxgroup invoices for all your Cat equipment
ACTIVE CONDITION MONITORING BY TEKNOXGROUP:
Our experts know Cat equipment like no one else. We will provide you with insights on your machine operation together with timely alerts on critical faults, so that you can plan downtime, increase uptime and reduce operating costs.
TEKNOXGROUP INSPECTIONS:
In addition to your daily check routine, on each regular maintenance interval our experts will check your equipment's key components and systems followed by a detailed checklist

We will identify signs of wear or misalignment and document/present the results to you, together with a solution proposal
WHY PERFORMANCE WORKS FOR YOU
In addition to Convenience, Performance will provide you with trained dealer service and maintenance, technical inspections and expert consultation, so that you can better manage downtime and plan your machine operation cost.
Performance recommends usage of Cat fluids, which can extend your component life.
BROWSE THROUGH THE CUSTOMER VALUE AGREEMENTS BROCHURE

and see what agreement best suits yor business.