TEKNOXGROUP AT The MINEX
TEKNOXGROUP AT The MINEX
Europe Mining & Exploration Forum
---
The 2nd MINEX was held on 14-16 June 2017 in Belgrade, Serbia.
MINEX conference helps to focus and put attention to the local Government, Miners and Local Communities further on opportunities within mining industry in particular region.
This time we used advantage of Serbia being one of the world's most promising mining hot-spots for taking participation and elevate awareness of our brand.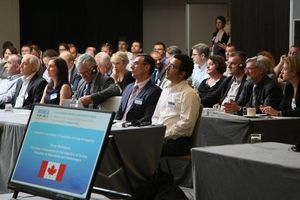 Many international companies showing tangible interest in taking a part in development or acquisition some of the most attractive ore deposits globally, literally speaking. Just to mention a few like Jadar project under Rio Tinto lead exploring so called ''kryptonite" unique lithium borate mineral. All along with deposits in the Timok region with exceptional grade ore content. Owned by well-known mining companies like Freeport, Nevsun and others those projects are close to extraction phase including many others in the different stages of exploration.
Gathering international community in Belgrade we from Teknoxgroup Serbia joined group over 170 delegates representing EU-funded mining and technical projects, European and Global mine operators, Practitioners from consulting companies, Equipment suppliers and software providers, Representatives from research institutions and Government agencies, National geological surveys, Banks, NGOs, Media, as well as Academic scholars and Researchers.
Having in mind that international expertise and knowledge gained by other mining regions in developing sustainable and responsible mining industries alike to Serbia, now being in the front of our doors we took advantage and raised visibility of Caterpillar as leading mining equipment manufacturer and Teknoxgorup as local provider of utmost services and support.
We also had a great pleasure to visit historic mining town Bor including very interesting Čukaru Peki mineral deposit developed by Rakita Company Ltd (Freeport/Nevsun) and Mining Complex managed by RTB Bor Group.
More on this topic: https://www.minexeurope.com/2017/
---