VIBRATORY SOIL COMPACTORS
Cat® engines are reliable, durable and powerful.
Extended service intervals reduce downtime and maintenance costs.
Pod style vibratory system ensure peak compaction performance and minimal service. High dynamic force helps achieve density in fewest number of passes.
Exclusive dual-pump propel system provides equipped machines with superior tractive effort and improved versatility.
Excellent serviceability.
Excellent visibility to the drum edge, tire edge and rear of machine.
Highly versatile with many productivity and efficiency options.
Large range of sizes and configurations to meet many needs.
Operator stations are designed for maximum comfort, easy control and excellent visibility.
AccuGrade Compaction GPS Mapping and Measurement package available as an option on some models.


| Model | Overall Width | Gross Power | Operating Weight | Specifications |
| --- | --- | --- | --- | --- |
| CS10 GC | 2300 mm | 90 kW | 10.287-10.449 kg | Specalog |
| CS11 GC | 2300 mm | 90 kW | 11.020-11.182 kg | Specalog |
| CS12 GC | 2300 mm | 90 kW | 12.446-12.609 kg | |
| CP11 GC | 2300 mm | 90 kW | 11.182-11.344 kg | Specalog |
| CP12 GC | 2300 mm | 90 kW | 12.433-12.596 kg | Specalog |
| CS44B | 1800 mm | 75 kW | 7.210 kg | |
| CP44B | 1800 mm | 75 kW | 7.471 kg | |
| CS54B | 2300 mm | 98 kW | 10.555 kg | |
| CP54B | 2300 mm | 98 kW | 11.135 kg | |
| CS56B | 2134 mm | 117 kW | 11.500 kg | Specalog |
| CP56B | 2134 mm | 117 kW | 11.665 kg | Specalog |
| CS64B | 2330 mm | 98 kW | 12.355 kg | |
| CS66B | 2330 mm | 117 kW | 12.360 kg | |
| CS68B | 2330 mm | 117 kW | 14.325 kg | |
| CP68B | 2330 mm | 117 kW | 14.685 kg | |
| CS74B | 2330 mm | 129,5 kW | 16.000 kg | |
| CP74B | 2330 mm | 129,5 kW | 16.355 kg | |
| CS76B | 2360 mm | 129,5 kW | 17.455 kg | |
| CS78B | 2460 mm | 129,5 kW | 18.700 kg | |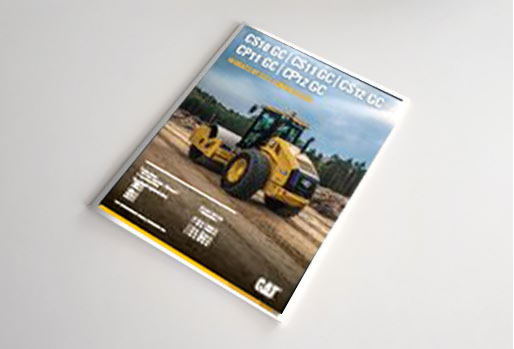 SCOM GC brochure