Buckets - Backhoe Front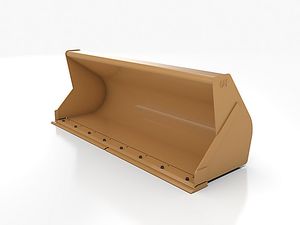 Enhance the performance of Cat Backhoes with buckets designed specifically to meet needs in the construction market. Backhoe Front Buckets match specific job requirements for capacity and functionality.
General Purpose buckets are the all-around choice for loading, carrying, dumping and performing general clean-up work.
The Caterpillar Multi-Purpose Bucket offers excellent versatility by enabling one work tool to do the job of many. This bucket is ideal for material handling, clamping, grading, leveling and grasping irregularly shaped objects.
GENERAL PURPOSE BUCKETS
| Model | Capacity | Width | Weight |
| --- | --- | --- | --- |
| 0.76 M3 | 0.76 m3 | 2.262 mm | 352 kg |
| 0.96 M3 | 0.96 m3 | 2.262 mm | 438 kg |
| 1.00 M3 | 1.00 m3 | 2.406 mm | 530 kg |
| 1.07 M3 | 1.07 m3 | 2.262 mm | 459 kg |
| 1.15 M3 | 1.15 m3 | 2.406 mm | 476 kg |
| 1.34 M3 | 1.34 m3 | 2.434 mm | 668 kg |
MULTI PURPOSE BUCKETS
| Model | Capacity | Width | Weight |
| --- | --- | --- | --- |
| 1.0 M3 | 1.0 m3 | 2.262 mm | 723 kg |
| 1.0 M3 with folder over forks | 1.0 m3 | 2.262 mm | 915 kg |
| 1.1 M3 | 1.1 m3 | 2.425 mm | 751 kg |
| 1.1 M3 with folder over forks | 1.1 m3 | 2.425 mm | 909 kg |
| 1.15 M3 | 1.15 m3 | 2.425 mm | 955 kg |
| 1.15 M3 with folder over forks | 1.15 m3 | 2.434 mm | 1.148 kg |
SIDE DUMP BUCKETS
| Model | Capacity | Width | Weight |
| --- | --- | --- | --- |
| 0.76 M3 | 0.76 m3 | 2.514 mm | 857 kg |