VISOKA RADNA FLEKSIBILNOST SA MODELOM TERMINATOR XTRON
VISOKA RADNA FLEKSIBILNOST SA MODELOM TERMINATOR XTRON
Terminator xtron ima novo razvijenu jedinicu za V-usitnjavanje šrederom koja je posebno praktična i podesna je za sve vrste otpada, kao i za drvo i zeleni otpad.
---
Visoko efikasni Komptech Terminator xtron usitnjava sve vrste materijala na podesivu veličinu zrna. Bilo da se radi o otpadnom drvetu, zelenom ili kućnom otpadu, kabastom ili komercijalnom otpadu, visoki zubi i jak motor - usklađen sa najnovijim standardima za emisiju izduvnih gasova - omogućavaju ovoj novoj izvjedbi Terminatora da izvrši praktično sve zadatke usitnjavanja šrederom. Tu mogućnost korisnici i kompanije koriste da fleksibilnije i ekonomičnije reaguju na različite zahtjeve poslova.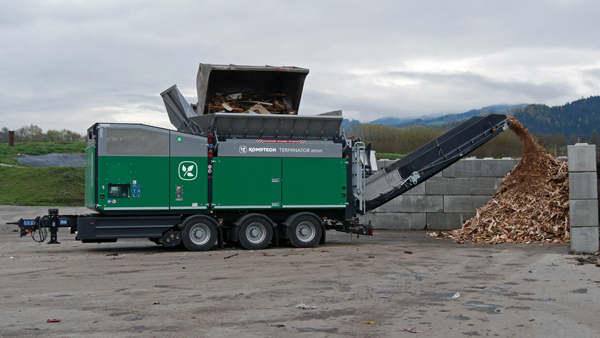 Nova jedinica za V-usitnjavanje šrederom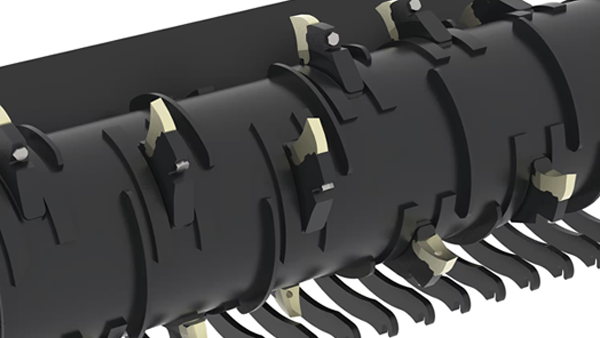 Model Terminator xtron ima novu jedinicu za usitnjavanje šrederom, razvijenu kako bi osigurao dobro ubacivanje i efikasno usitnjavanje šrederom sa konstantnim kvalitetom izlaza. Ona ima 16 specijalno konstruisanih i primjetno dužih zuba doboša, kao i odličan spoljni prečnik od 1,17 m. Visoko postavljeni zubi pružaju konstantno ubacivanje, čak i kod krupnog ili zelenog otpada. Veći spoljni prečnik sprječava obmotavanje koje bi inače prekinulo usitnjavanje. 17 zuba na kontra-češlju poboljšavaju performanse usitnjavanja. Prostor za rezanje između doboša i češlja se podešava hidraulikom i ostaje konstantan kada se jednom postavi. Tako može da se podesi stepen usitnjavanja šrederom da bi se dobila idealna, konzistentna veličina zrna za dalju obradu. Sistem češlja može da se koristi ako je potrebno još sitnije zrno.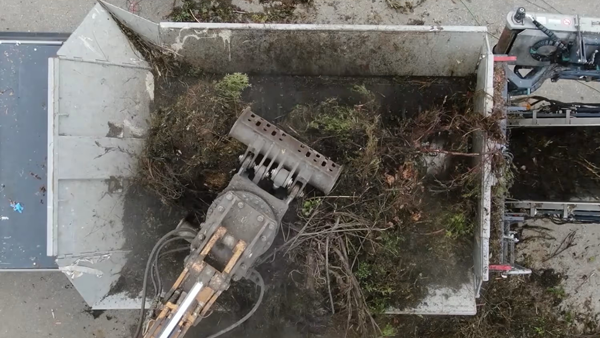 Visoka efikasnost i visoka propusnost
Lijevak sa hidrauličnim sklapanjem je zaista jedinstvena prednost. On omogućava korisniku da prilagodi otvor lijevka metodi utovarivanja. To omogućava efikasan rad, visoku propusnost i minimalno prosipanje. Širi prostor usitnjavanja omogućava utovarivanje bez problema čak i sa velikim utovarivačem na točkovima. Model Terminator xtron je mobilan na putu, što je bitno za korišćenje na više lokacija, sa trostrukim središnjim osovinama sa vazdušnom suspenzijom i mogućnošću pozicioniranja na lokaciji rada. Takođe, on može da se isporuči u izvjedbama sa platformom sa podizanjem kukom ili šasijom na gusjenicama.
Nova hidraulična verzija omogućava visoku propusnost
U poređenju sa drugim modelima Komptech serije Terminator, Terminator xtron ima jači hidraulični pogon i poboljšanu tehnologiju kontrole. Pogon čini Caterpillar dizel motor za teške poslove koji zadovoljava najnovije standarde za emisiju izduvnih gasova. Dvostrani pogon doboša se standardno isporučuje i osigurava visok obrtni moment za materijale koji se teško usitnjavaju. Komanda brzine koja zavisi od opterećenja automatski prilagođava brzinu i snagu doboša da odgovara materijalu. Pod visokim opterećenjem to daje mašini 40 procenata veći obrtni moment, olakšava rad i obezbjeđuje efikasnost čak i sa najtvrđim materijalima.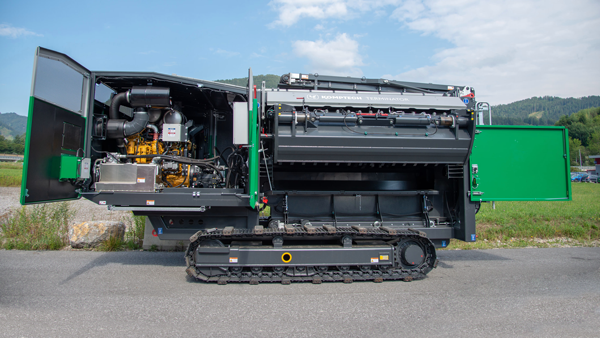 ---