Demining machine with a Cat engine
Demining machine with a Cat engine
---
A completely new demining machine MH 17, designed and produced in TRB Bratunac (RS), Bosnia and Herzegovina, driven by CAT C 13 STAGE III A engine power 310 kW / 2100 rpm.
TEKNOXGROUP Energy & Transportation department has delivered and participated in the installation of engine with cooling system, delivery and calculation of engine mounts, exhaust and suction system of the engine and control of the engine itself.
TRB Bratunac, as the carrier of the complete project, is very satisfied with the performance of the CAT C13 engine and with the complete service of Teknoxgroupe Energy & Transportation department.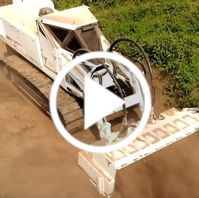 ---