Parts and Service
When you experience a breakdown, can you afford days or even weeks of downtime waiting for a distributor to locate and ship the part you need? Perform necessary repairs or maintenance and return to work faster, with unmatched parts availability, service, and support from Teknoxgroup.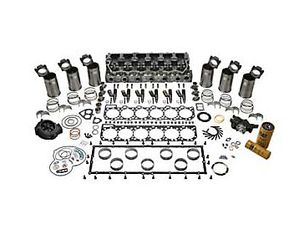 What qualifies us to earn your parts business? These are just a few of the advantages our parts customers appreciate:
Unmatched Availability
Our fully stocked parts warehouses and access to Cat® inventory ensures we can provide the part you need when you need it. That includes new, classic parts, and remanufactured parts.
1. New Parts:
Thousands of parts on the shelf for your convenience
If we don't have a part, we can ship it via DHL and thus greatly shortening the delivery time
Unmatched emergency parts service
2. Reman / Exchange Parts:
Whether you need to replace an engine, engine component, or other equipment part, Caterpillar Reman products and Carter Exchange products are an excellent value. Cat imposes remanufacturing and critical engineering update standards to ensure performance, reliability and life. Reman and Exchange products are backed by the same warranty as new Cat parts. The only thing that's different is the price.
Convenience and Expertise
Count on prompt, responsive parts service. We employ over 200 dedicated, knowledgeable professionals to take and fulfil parts orders, and offer you a variety of methods for placing your part order.
Contamination Control
To keep the parts that power your equipment in top condition, we store them in clean, contaminant-controlled warehouses, and follow strict contamination control regulations for handling and distribution.
PARTS
Superior Performance and Lower Costs
Caterpillar® final drive and transmission parts work together to transmit power to the ground and propel Cat® earthmoving equipment through a variety of applications all over the world. Caterpillar designs and manufactures the highest quality drive train systems in the industry, and we work with you to achieve superior machine performance offering genuine Cat drive train parts, along with excellent maintenance and repair options when you need them. The results is maximum machine productivity and lower owning and operating costs.
Our Warehouses
Teknoxgroup has been serving with its products stored in 13 regional and subsidiary warehouses:
Slovenia – Grosuplje
Croatia – Zagreb, Split, Rijeka and Osijek
BIH – Sarajevo, Laktasi and Lukavac
Serbia – Beograd
Montenegro – Podgorica
Kosovo – Pristina
Macedonia – Skopje
Albania - Tirana
CAT FLUIDS
Caterpillar offers Cat Fluids that are as tough as your equipment. As equipment technology improves and performance requirements become more stringent, the fluids in your system become increasingly important. Teknoxgroup delivers high quality fluids that improve the performance and extend the life of your equipment. Cat lubricants and coolants are field tested and approved to ensure they meet each compartment's specific performance and cooling requirements.
CAT OIL
CAT oil is specifically made for CAT machines and as a lubricant performs several basic functions in order to provide adequate lubrication. Foremost, it provides an oil film cushion that keeps metal-to-metal contact to a minimum, thereby reducing friction and wear. Viscosity is the single most critical property of a lubricant since it relates to the thickness of the oil film cushion.
For details about Cat Bio HYDO Advanced hydraulic oil please click here.
CAT COOLANT
Since 1996 Cat ELC (Extended Life Coolant) has been the worldwide factory fill coolant for new Caterpillar machines. Cat ELC lasts at least three times as long as standard heavy-duty coolants while providing better corrosion protection than other coolants available today.
CAT FILTERS
Putting the right lubricants in your machine is the first step - using proper filters is the second. Consistently using quality filters to maintain system cleanliness reduces component wear and lowers operating costs. Cat filters are designed to work with Cat fluids in Caterpillar engines and component systems to provide the highest levels of cleanliness and performance - protecting your systems and lowering your costs.
CAT PARTS WARRANTY
Please remember that Teknoxgroup will not only sell you a part, but we will also stand behind its quality and performance with CAT parts warranty.
Caterpillar Grimbergen Parts Distribution Centre
Caterpillar's spare part depot in Europe is the Grimbergen Warehouse in the vicinity of Brussels, Belgium. The warehouse, built in 1960, serves Europe, Middle East, Africa and the Union of Independent States.
29 agencies in 32 countries of Europe
26 agencies in 65 countries of Africa-Middle East
In this warehouse settled on 108,400 m2 with over 400 employees, more than 300,000 product items are stored.
By means of the ordering software developed in the recent years and used by all product representatives, the representatives can see not only the Grimbergen Warehouse but also the part presence in the warehouses all over the world.
Orders
In addition to the orders shipped daily via air, the emergency truck orders and our daily stock orders given to provide our warehouse stocks depart from Belgium two days a week, arrive at the customhouses two days later and again in two days the latest drawn from the customhouses and shipped to our warehouses.
Those parts we order from Cat/Grimbergen and which are not available in Grimbergen either are provided by investigating all over the world via the network between Caterpillar's own centres and then shipped to Teknoxgroup.