Combined Heat & Power
Many industrial facilities such as manufacturing plants, refineries, and regional district heating plants, industrial driers; or commercial facilities such as resorts, shopping malls, high-rise office buildings, universities, data centres, and hospitals, can reduce operating costs by implementing a Cat® CHP generator system (also known as cogeneration) using clean pipeline natural gas as a fuel source. Cat gas generator sets can simultaneously provide electricity for electrical loads and heat energy for a facility's thermal requirements. Whereas separate grid electricity and natural gas boilers often provide less than 50 % efficiency, Cat CHP generator projects offer additional benefits.
What are the benefits of Cogeneration?
Energy efficiency up to 90 %
Reduced energy costs versus separate heat and electrical generation systems
Reduced emissions versus separate heat and electrical generation systems
Leadership in Energy and Environmental Design (LEED) certification via energy efficiency credits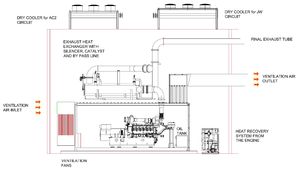 Click to download Oil & Gas Ratings Guide
<
| | | | | | |
| --- | --- | --- | --- | --- | --- |
| ENGINE | ELECTRICAL POWER kWe | ELECTRICAL EFFICIENCY | THERMAL EFFICIENCY | TOTAL EFFICIENCY | TOPLOTNA MOČ |
| CG132-8 | 400 | 42,3 | 45,2 | 87,5 | |
| CG132-12 | 600 | 42 | 45,9 | 87,9 | |
| CG132-16 | 800 | 42,4 | 45,3 | 87,7 | |
| G3512E | 1017 | 41,5 | 41,9 | 83,4 | |
| G3512E | 1211 | 42,3 | 42,8 | 85,1 | |
| CG170-12 | 1200 | 43,7 | 43,3 | 87 | |
| G3512E | 1211 | 42,3 | 42,8 | 85,1 | |
| CG170-16 | 1560 | 43,3 | 43,8 | 87,1 | |
| G3516E | 1603 | 41,7 | 42,5 | 84,2 | |
| CG170-20 | 2000 | 43,7 | 43,2 | 86,9 | |
| G3516H | 2022 | 44,7 | 41,3 | 86 | |
| CG260-12 | 3333 | 44,1 | 42,4 | 86,5 | |
| CG260-16 | 4300 | 44,1 | 42,7 | 86,8 | |
| G16CM34 | 7808 | 46,6 | 40,3 | 86,9 | |
| G20CM34 | 9760 | 47,1 | 42,1 | 89,2 | |