Refuse Derived Fuels
Waste passes through several steps on its way from refuse to fuel:
Preshredding with the Terminator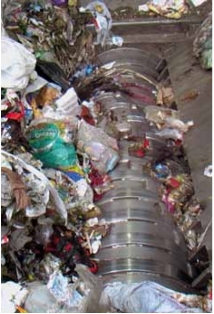 The Terminator shreds a wide range of input materials, highly consistently and with high overall performance. As a preshredder, it ensures trouble-free feed of material in predefined particle sizes to follow-on components. The Terminator model chosen depends on the content of contraries in the input and the desired amount of fuel-ready fraction in the output.
Separation with the Ballistor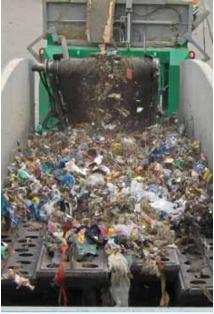 Designed especially for waste containing contraries, the Ballistor separates these out of the preshredded material stream in the rolling fraction. Built tough and needing only a little room, this ballistic separator causes just minor air movement. Therefore, it creates only a fraction of the dust blown up by a windsifter. As a result, much less dustremoval equipment is needed, reducing operating and energy costs. The output is two main fractions - the light, flat fuel fraction and the heavy, rolling contrary fraction. Undersized material falls out through the screen holes to form a fine fraction. With dry fabric waste, the end product can be a classic RDF or calciner RDF without further fine shredding.
Fine shredding with the Rasor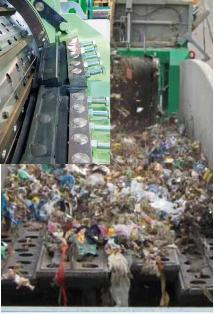 The Rasor fine-shreds the flat fraction dependably and precisely, often after optical sorting equipment has removed PVC and possible recyclables. Depending on the screen basket used, the fuel size can run from 60 mm diameter down to 30 mm blow-in RDF, or even 10 mm fuel for coal-fired power plants. High performance and sharp blades ensure low operating costs and top fuel quality.
Post-screening with the Multistar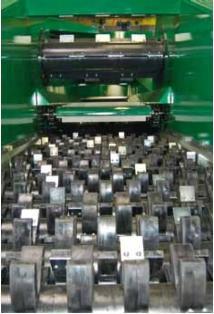 With high performance and very effective use of space, the Multistar screens the fine-shredded fuel. Using only minimal energy itself, this star screener enables lower energy costs for the fine-shredder. The screen cut-off and thereby the maximum particle size of the fuel can be changed by adjusting the screen shaft speed, with just the press of a button.