Pulverizers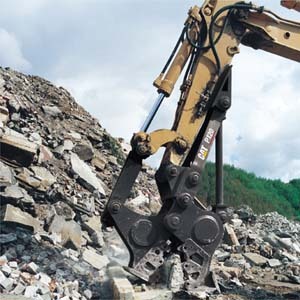 Cat® Secondary Pulverizers rapidly reduce all types of concrete and separate out rebar. The non-rotating design is purpose-built for high-volume processing of concrete demolition debris. Once reduced, rebar can be sold for scrap, and the concrete can be reused or conveniently disposed.
The Secondary Pulverizer product line consists of three models sized to fit Cat hydraulic excavators 315-349.
Click here to watch Cat pulverizer at work.
| Model | Closing Force - Tip | Closing Force - Rebar Cutter | Capacity - Concrete Thickness | Specifications |
| --- | --- | --- | --- | --- |
| P215 | 119 t | 230 t | 650 mm | Specalog |
| P225 | 174 t | 331 t | 750 mm | Specalog |
| P235 | 190 t | 393 t | 900 mm | Specalog |