Next Generation Bachoe loader
Next Generation Bachoe loader
Next Generation Bachoe loader
TAKE CONTROL IN A CAT® BACKHOE LOADER
The first Cat® backhoe loader hit the road in 1985. Customer demands and applications have changed during the last 35 years, but today's backhoe loaders remain true to the core strengths of that original 1985 A Series. The machines are still designed by experts to meet the needs of today's operators. Every model provides reliability, power and a top-quality operator environment to see you through the toughest projects.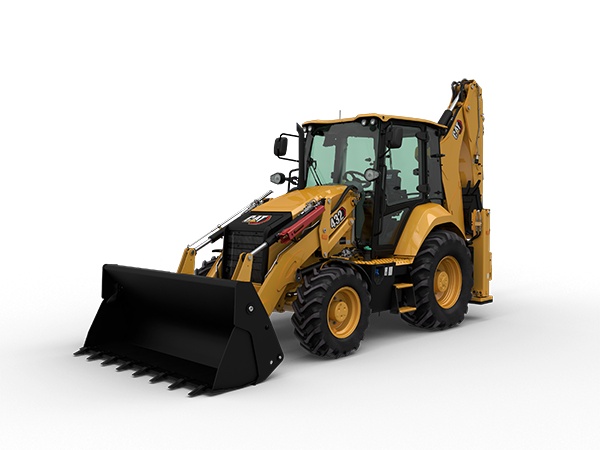 FEATURES YOU'LL LOVE
There are four new backhoe loader models that bring you more comfort, fuel efficiency and control than ever before. Every model includes a display screen, Cat engine that meets the latest emissions standards, iconic, excavator-style Cat boom, powerful hydraulics when you need them and access to Product Link™ data to help increase productivity and reduce costs.
DISPLAY SCREEN

Set your machine performance to increase productivity and efficiency. Depending on the model, you can use the interactive display screen to keep your machine secure with machine security software, set hydraulic speed, alter machine responsiveness, get updates on machine diagnostics and see upcoming service reminders.

POWERSHIFT TRANSMISSION

Enjoy smooth and efficient gear shifting, on the go. Simply twist the Power Shuttle Lever to shift gears. The lever is designed to be ergonomic, offering easy and comfortable gear shifts. There is no floor-mounted gear shift lever, so you have more room to work.

SEATMOUNTED CONTROLS

Choose seat-mounted controls for maximum comfort and productivity. Optional seat-mounted controls allow operators to work more precisely than ever before, with the least possible effort. You can choose to face the loader or the backhoe. Alternatively, you can sit offset between the two. With dual-mode you can face the loader and control the backhoe implements, and vice versa. By moving controls onto the seat, we've created more legroom, storage, and visibility out of the back.

CAT® C3.6 ENGINE

Breathe easy with a powerful, efficient Cat engine. The Cat C3.6 engine meets EU Stage V emissions regulations. Although it uses up to 10% less fuel, it offers the same power and torque density. The aftertreatment system is completely maintenance-free.