Rakes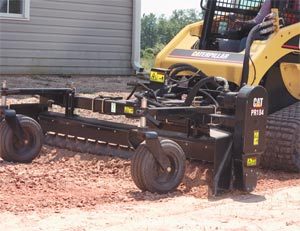 Cat offers a wide variety of rakes. These attachments are useful in many site development, land-clearing and landscaping jobs.
Excavator Rakes are used for grubbing, piling, and loading trucks and grinders in the General Construction and Forestry industries. Cat Rakes are designed to work with Cat Thumbs. Loader Rakes equip Cat Wheel and Track-Type Loaders to clear ground, root out stumps and stack brush for burning or transport. Track-Type Tractor Rakes replace or supplement the standard blade, powering through difficult underbrush, trees, stumps and rocks.
Power Box Rakes are ideal for clearing and preparing soil in general construction trench restoration, golf course construction and athletic field maintenance. Industrial Grapple Rakes on Skid Steers are designed to easily handle a wide array of bulky, irregularly shaped objects encountered in demolition, industrial, construction, recycling, storm debris clean-up, landscaping and other aggressive applications.
INDUSTRIAL GRAPPLE RAKES
Click here to watch the video: Cat Grapple Rake Attachment at Work
| Model | Width | Height | Weight | Specifications |
| --- | --- | --- | --- | --- |
| 1829 MM | 1.829 mm | 838 mm | 467 kg | Specalog |
| 2134 MM | 2.134 mm | 838 mm | 515 kg | Specalog |
LANDSCAPE RAKES
Model
Working Width
Bucket capacity - struck
Specifications
LR15B
1.576 mm
0.3 m3
Specalog
LR18B
1.883 mm
0.34 m3
Specalog
POWER BOX RAKES
Click here to watch the video: Cat Power Box Rake Attachment at Work
| Model | Roller width | Overall width | Overall length | Specifications |
| --- | --- | --- | --- | --- |
| PR172 | 1.829 mm | 2.057 mm | 1.626 mm | Specalog |
| PR184 | 2.134 mm | 2.362 mm | 1.626 mm | Specalog |
| PR190 | 2.286 mm | 2.515 mm | 1.626 mm | Specalog |