Buckets - Skid Steer Loader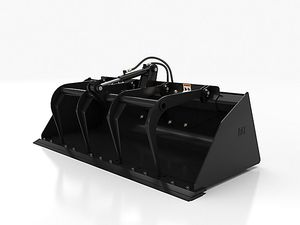 Cat® Buckets for Skid Steer Loaders, Muti Terrain Loaders and Compact Track Loaders are designed to provide superior productivity, high reliability and long life in a variety of materials and handling conditions. A variety of buckets are available including General Purpose, High Capacity, Dirt, Utility, Light Material and Multi Purpose.
Cat Industrial Grapple Buckets are also available and are ideal for grasping objects, such as railrod ties, trees, large rocks, brush, industrial and demolition scrap, and recycling debris. Cat Utility Grapple Buckets are designed to handle light, hard to handle materials such as loose hay, straw, bedding materials, dry compacted livestock waste, landscaping mulch and pine straw.
DIRT BUCKETS
GENERAL PURPOSE BUCKETS
INDUSTRIAL GRAPPLE BUCKETS
| Model | Width | Height (Grapples closed) | Jaw Opening | Specifications |
| --- | --- | --- | --- | --- |
| 1524 MM | 1.524 mm | 813 mm | 1.016 mm | Specalog |
| 1676 MM | 1.676 mm | 813 mm | 1.016 mm | Specalog |
| 1829 MM | 1.829 mm | 813 mm | 1.016 mm | Specalog |
| 1981 MM | 1.981 mm | 813 mm | 1.016 mm | Specalog |
LIGHT MATERIAL BUCKETS
| Model | Width | Rated Bucket Capacity | Specifications |
| --- | --- | --- | --- |
| 1829 MM | 1.829 mm | 0.44 m3 | Specalog |
| 1981 MM | 1.981 mm | 0.48 m3 | Specalog |
| 2134 MM | 2.134 mm | 0.63 m3 | Specalog |
| 2438 MM | 2.438 mm | 0.93 m3 | Specalog |
MATERIAL HANDLING BUCKETS
| Model | Width | Rated Bucket Capacity | Weight | Specifications |
| --- | --- | --- | --- | --- |
| 2134 MM | 2.134 mm | 1.07 m3 | 365 kg | Specalog |
| 2438 MM | 2.438 mm | 1.25 m3 | 400 kg | Specalog |
| 2591 MM | 2.591 mm | 1.33 m3 | 417 kg | Specalog |
MULTI-PURPOSE BUCKETS
UTILITY BUCKETS
| Model | Width | Rated Bucket Capacity | Specifications |
| --- | --- | --- | --- |
| 1524 MM | 1.524 mm | 0.43 m3 | Specalog |
| 1676 MM | 1.676 mm | 0.48 m3 | Specalog |
| 1829 MM | 1.829 mm | 0.52 m3 | Specalog |
UTILITY GRAPPLE BUCKETS
| Model | Width | Height (Grapples closed) | Jaw Opening | Specifications |
| --- | --- | --- | --- | --- |
| 1676 MM | 1.676 mm | 739 mm | 902 mm | Specalog |
| 1829 MM | 1.829 mm | 739 mm | 902 mm | Specalog |