Forks - Skid Steer Loaders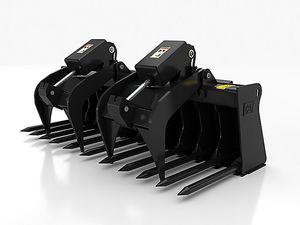 Forks equip Skid Steer, Wheel and Track Loaders with material handling capability. A range of types are available, including:
Pallet Forks are the essential loader tool, moving palletized and bundled material around the job site, loading and unloading trucks and setting barriers. Cat makes a wide variety of pallet forks.
Pipe & Pole Forks add a hydraulic top clamp to a pallet fork base, creating a fork than can load, unload and transport loose pipe sections, poles and similar materials.
INDUSTRIAL GRAPPLE FORKS
| Model | Width | Height (grapples closed) | Jaw Opening | Specifications |
| --- | --- | --- | --- | --- |
| 1676 MM | 1.676 mm | 813 mm | 965 mm | Specalog |
| 1829 MM | 1.829 mm | 813 mm | 965 mm | Specalog |
PALLET FORKS
| Model | Fork Tine Length | Carriage Height | Fork Tine Width | Specifications |
| --- | --- | --- | --- | --- |
| 910 MM | 910 mm | 934 mm | 100 mm | Specalog |
| 1070 MM | 1.070 mm | 934 mm | 100 mm | Specalog |
| 1220 MM | 1.220 mm | 934 mm | 100 mm | Specalog |
UTILITY FORKS
| Model | Width | Height | Length | Specifications |
| --- | --- | --- | --- | --- |
| 1676 MM | 1.676 mm | 581 mm | 940 mm | Specalog |
| 1829 MM | 1.829 mm | 581 mm | 940 mm | Specalog |
UTILITY GRAPPLE FORKS
| Model | Width | Height (grapples closed) | Jaw Opening | Specifications |
| --- | --- | --- | --- | --- |
| 1676 MM | 1.676 mm | 755 mm | 876 mm | Specalog |
| 1829 MM | 1.829 mm | 755 mm | 876 mm | Specalog |